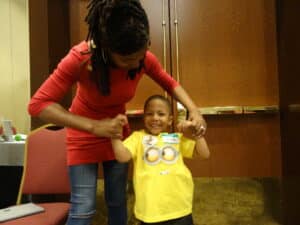 "My pain crisis were primarily more severe when I was younger.  When I was first diagnosed I had really bad pain crisis, where I'd have to be admitted for any amount time.  It could be a few days up to three weeks at a time. Then once I got older, I would say until high school, they kinda started to go down, but then as soon as I became a woman, things got really ramped up. 
After my first cycle, my pain crisis would come with my cycle every month, and so a lot of times I was just doubled over in debilitating pain, not only from the feminine symptoms but also the feeling that I had a lack of blood. I just felt very anemic, very tired, and that would oftentimes throw me into a crisis.  
Luckily though I wouldn't always have to be hospitalized for every month, but I could count on being hospitalized at least three times a year.  When you're thinking about that in terms of when you're in school, that's a lot. Once I actually started hydroxyurea, this was about, maybe about six years ago, things just got better. Just better, better, better.  I didn't have to be hospitalized nearly as often. And if I was, the time I was in there just shrunk dramatically. So that was a changing point for me was, taking hydroxyurea.
In school, what I found to be the hardest was keeping up with my school work. It became such a headache for me to have to deal with my pain crisis, whether I was hospitalized or not, because sometimes it would happen in the middle of the week, or it wasn't bad enough to be admitted, but I was still at home on over the counter pain medicines, or prescription pain medicines. I would miss out on a lot of school work that I had to make up, and that caused me stress, which in turn caused my pain to go off. So that was by far the most difficult thing, and then on top of that, it made me a very isolated and lonely child.  
I took a lot of time to myself trying to figure out how to navigate the adolescent world, which is difficult in itself without even adding on the added stress and unfortunate situation of having sickle cell. So the biggest challenges for me were making friends and participating in extracurricular activities and just keeping up with my schoolwork.  My core group of friends knew and they were very helpful and loving. 
My mother, she was a single mom, but she supported me in ways that a lot of parents don't realize they can support their child in. Because it was just the two of us, and I had a debilitating disease, she was there for me as a best friend at times where I needed that. She was there for me like a big sister at times. She was always my caregiver. So I had a great support system, and on top of that, early in high school is when I met my now-husband. And he became a part of that support system that made it easier for me to navigate, and easier for me to see myself in a more positive light the older I got.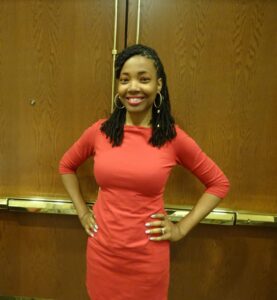 I'd always wanted to be a chef, and I started that training when I was in high school.  I already had some college credits, and I really put my all into that. Once I actually graduated and came back home, to Indianapolis. I got a job. I was working, and it became so heavy.  It became one of the things that made my life the hardest I'd ever had to experience. 
The kitchen is the hottest place on Earth. That saying "If you can't stand the heat, get out of the kitchen" is a real saying. It is not a myth. It comes from the kitchen, the commercial kitchen. Behind the line, it's like at 2000 degrees back there. It's ridiculously hot. That, in combination with the amount of movement you're doing, the number of eyes that are on, just all of that made it very difficult. I was only a chef for a little less than a year, and I ended up having to give my career up, which kind of sent me into a depression. 
I did not see myself, at the time, I thought as a failure. I didn't see myself failing, so yes, my life took a turn once I realized that my body could not keep up with what my heart and my mind wanted to do. I saw myself having my own restaurant, being a celebrity chef, just a lot of those wonderful great things that people out there achieve. But my body was not physically able.  That's a real hard thing to swallow being in your early twenties and having your doctor look at you and say, "I'm sorry, but this is your reality. Your hips are not gonna last.  Your shoulders are not gonna last. Some of your organs aren't gonna keep up, and you have to decide, do I want to live? Or do I want to work?" 
And that's something that a lot of people don't have to…they don't have to make that choice.   
When you find yourself in a place, in an area where you are struggling mentally, where you're struggling spiritually, if you're struggling inside in your heart, reach out for help because no one can truly know when you need help and what type of help to get you. I have seen several therapists. I've been to counseling, and I've talked to people. I've gained skills that have helped me to cope with my illness as well as other aspects of my life that aren't directly related to my sickle cell. It's a fine line to walk when you have sickle cell, and you're a woman, you're a mom, you're a wife, you're a daughter. So keeping all those plates in the air is really difficult, especially if you don't ask for help.
So, okay. This is one short one that my mom and I laugh about today, but at the moment it was not funny at all. I was in the hospital, and I had been there a couple of days maybe, in full-blown crisis, a lot of tremendous pain. In response to me asking [a nurse] for medication. I think I'm allergic to this medication, it was Dilaudid.  And I don't think I'd had Dilaudid before.
So I said "I think I'm allergic. Can you check it out? Can you give me something to calm the itching?  I don't care if it's Benadryl, whatever." And she just dismissed me so quickly by saying "You know, sickle cell makes you itch sometimes." And she was very dismissive, very heartless, it was very like "You don't know what you're talking about." It was very offensive because it was a type of itch that I knew could not be satisfied by scratching. It was an allergic kind of itching.  
So, once that it's proven that I was allergic, it made me feel even worse. I knew what was going on with my body, so that taught me to never underestimate my gut instinct. I knew I was allergic, and I'm glad that I spoke up for myself. But something that small. Who knows, she could have been having a bad day. She could have been overworked. It could have been the end of the day. She was just hurried to get out of there. But there's no excuse for that type of dismissive behavior, especially when I'm the one that's had the illness her whole life, and I do my research. I have to know as much about this illness as much as I possibly can because it affects me, my family, and now my child. It was a small thing, but it was a big thing.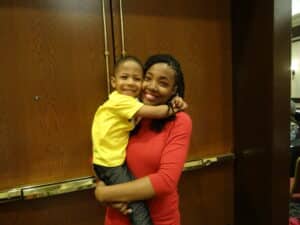 To me, that's what I hear when people say that "isn't that a black disease? Isn't that something I don't have to care about?" Like that's what they're really asking, and it's like, who cares who gets it? Sickle cell is not just a black disease. By this I mean, yes, I am a black person, and yes I do have sickle cell, but people that are affected by my illness look like every color of the rainbow. I have black family and friends. I have white family and friends. I have hispanic family and friends. I have asian family and friends. They're affected by my illness and how they see Lena, their friend, their family member. 
And even if it were just a black disease, why does that allow anyone off the hook? 
Never underestimate how powerful you are as a person, as a human being. And what I mean by that is, if you push yourself hard enough you can achieve anything. I think that's in myself, by going to culinary school in the first place, my mom did not want me to leave, let alone go out of state for school. She was terrified. But you know how we are, even as a young sickle cell patient, I just knew that I was invincible, and nothing bad was going to happen.   
When you find yourself in a place, in an area where you are struggling mentally, where you're struggling spiritually, if you're struggling inside in your heart, reach out for help because no one can truly know when you need help and what type of help to get you. So I have seen several therapists, I've been to counseling and I've talked to people and I've gained skills that have helped me to cope with my illness as well as other aspects of my life that aren't directly related to my sickle cell. It's a fine line to walk when you have sickle cell and you're a woman, you're a mom, you're a wife, you're a daughter. So keeping all those plates in the air is really difficult, especially if you don't ask for help." Lena, SCD, hgb beta-thalassemia