Voice 1: Cory Lewis
Born in Springfield, MA, and raised in Tallahassee, Cory Lewis is 27 years old and living with Sickle Cell Disease SC. Currently, he is in school for a dual major in General Studies and Biology at Georgia Military College, and he works for the Georgia Regional Hospital of Atlanta. Cory wanted to start working with community engagement for Sickle Cell Disease, learning about his community and their needs. With much experience working with people, he is now working closely in rare disease legislation in addition to interning in biomedical research. Recently, he founded his nonprofit, RedMoon Project. RedMoon wants to spread the R.E.D. culture everywhere: the mission is to RESTORE, ELEVATE, and DEVELOP new ways of improving the lives of all sickle cell patients through health care and spread awareness in our communities worldwide!
Cory says:
"[The] #1 thing I have learned in the SCD community is ACTION! You must know that your voice is so important and means more than you think. But understand that without action, our words can fade as it won't stick with hospitals, physicians, and even your own family. So my goal is to keep a strong sense of confidence to take the steps forward to something potentially helping not only myself but the world. Let's build the future we wish to see!"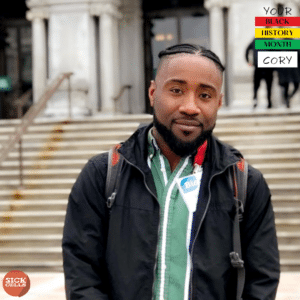 Cory is also making history by being one of the first SCD warriors to document their experience receiving both doses of a COVID-19 vaccine.
"I am a biology major pursuing a career in biochemistry, and I believe that vaccinations are needed in the world. We have many viruses that continue to mutate into something stronger. This explains why bacteria and disease have lived for so long as they will evolve when you least expect it. Having that knowledge made this vaccination journey important to me because it gave me a sense of courage. However, the time frame of actually receiving the vaccine and being asked if I wanted it was very short. It was not enough time to wrap my head around what could happen, and how I could be affected. But seeing how fast the virus was spreading, and to know that I am prone to infection as I have sickle cell, I would just rather not risk it."