Sharing Your Story on the Hill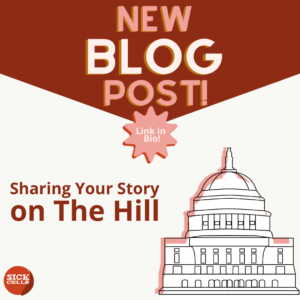 Storytelling is a powerful advocacy tool that provides a platform for the SCD community to express concern over health challenges. Sharing tales of personal experiences brings to life the impacts of certain policies and legislation, and inspires leaders and communities to take collective action. The upcoming National SCD Policy Forum is an event that opens the door for SCD advocates to speak with their legislators on what is most important to them and their communities. This blog shares experiences of sickle cell disease advocates who have previously participated in Hill events, and highlights the immense value of advocacy through storytelling. 
What is the National SCD Policy Forum, and Why Does it Matter?
The National SCD Policy Forum brings together sickle cell advocates from around the country for a federal advocacy event that will be held on March 21 and 22. This tri-collaborative event is hosted by Sick Cells, the Sickle Cell Disease Association of America, Inc. and the Sickle Cell Community Consortium. 
The first day of the event includes educational sessions on federal advocacy trends as well as opportunities to "practice your pitch" before meeting with legislators. The day will also feature open discussions on current gaps in SCD policy, providing a chance to brainstorm concrete solutions that would best serve the SCD community. The second day of the event hosts the "Virtual Hill Day," where advocates will meet virtually with legislators to educate them on SCD issues and policy recommendations. 
The event is a chance to spotlight all the great work that SCD advocates have been doing and bring important issues to legislators' attention. It also is an opportunity for SCD advocates to hone their advocacy skills by learning, exchanging ideas, and continuing to amplify voices of the SCD community.