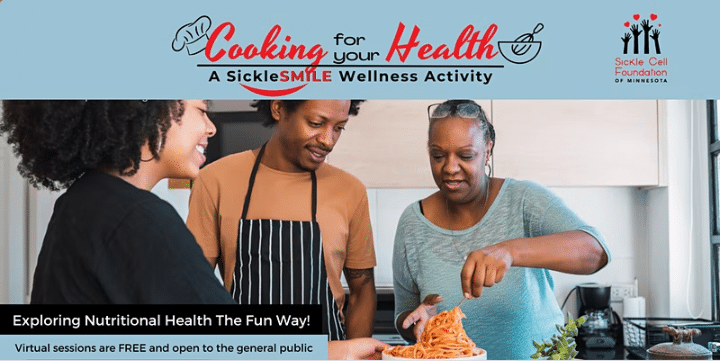 Cooking for Your Health: Incorporating Non-Inflammatory Ingredients into Your Everyday Meals
Healthy eating is not meant to be boring! Join the Sickle Cell Foundation of Minnesota's monthly virtual cooking class with live cooking demonstrations that will be filled with food, fun, and learning as they explore easy-to-use, non-inflammatory ingredients that can be used to make meals that can be enjoyed by the entire family! Have fun while you:
Learn how inflammatory foods worsen overall health
Identify foods to avoid when you (or a loved one) has a chronic condition that causes chronic inflammation (e.g. sickle cell disease, diabetes, arthritis, cancer, etc.)
Explore easy-to-use, non-inflammatory ingredients and easy substitutions
Observe cooking demonstrations by nutritionists and community experts
Develop healthy cooking habits that can benefit the entire family!
Monthly nutritional health virtual activities are open to:
Individuals living with sickle cell disease (SCD) or sickle cell trait (SCT)
Caregivers of children or partners living with SCD or SCT
Community members interested in learning more about nutritional health
Healthcare professionals seeking to better understand community-centered health habits
Public Health students and other community health champions seeking to engage with community members
Throughout the session, they will incorporate fun facts and opportunities to win fun prizes! (Prizes include gift cards, t-shirts, lanyards, backpacks and other fun swag items)
Learn More and Register: HERE
Map Unavailable
Date/Time
July 26, 2022
5:30 pm