Sick Cells interviews Brittany Butts about her experience with the Missouri-based program Kids Rock Cancer
In the first blog of our Complementary Therapies series, we highlighted Tracie Sandheinrich, a senior music therapist at Kids Rock Cancer, about her experience working with youth in the sickle cell disease community. In this blog, we spotlight one of her students, Brittany Butts. 
Brittany Butts—a 20-year old sickle cell warrior and student—began music therapy when she was 10 years old. She was recommended to Kids Rock Cancer by her hospital team and met Tracie, a senior music therapist with a passion for introducing students to the healing power of music. 
After going through a phase of being in and out of the hospital, Brittany was recommended to Kids Rock Cancer for music therapy sessions. Like many children with sickle cell disease (SCD), juggling the changes of growing up with the challenges often associated with SCD can be frustrating. Music therapy can both help translate your feelings into songs and can be a healthy distraction from pain. 
"It's like writing in a journal but someone is there to help me work through it," said Brittany. "Music therapy really helps put the feelings into words." 
Tracie and Brittany's music therapy session typically begins with a brainstorm. This requires Brittany to dig deep, open up and express her emotions. Vulnerability allows her feelings to pour onto the page but so does trust— which is rooted in the strong relationship she has with Tracie. 
"Getting emotions out with someone you trust helps with your mentality," said Brittany. 
Finding the Inspiration 
While many of Brittany's songs are inspired by her own experiences, she draws inspiration from those around her as well. From Bruno Mars to Beyoncé, the influence of many artists are reflected in the songs that result from Brittany's music therapy sessions. However, Tionne Watkins, formally known as T-Boz from the music group TLC, is especially influential. 
In a series of interviews and her book, A Sick Life: TLC 'n Me: Stories From On and Off the Stage, T-Boz has opened up about her journey with SCD and how it impacted her life. Her story has impacted sickle cell warriors everywhere, including Brittany. 
"You put everything that you're feeling on paper," said Brittany. "It's a good venting session. Therapy introduced me to writing songs but I do write inspirational messages on sticky notes to motivate me as well. Anything counts as lyrics." 
Brittany once wrote a song, "Love," which was based on her journey to loving herself again after she fractured her vertebrae and had to relearn to walk. Other song titles she has in her music therapy discography include "Stronger" and "You Can Be the Reason." She told Sick Cells her lyrics have grown with her. 
"I want to see change in myself and growth in myself," said Brittany. 
What Gives You Hope?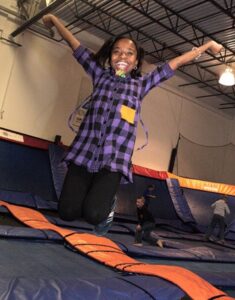 For those in the SCD community interested in music therapy, Brittany suggests going in with an open mind. "Give it a try," said Brittany. "It's a process like no other that will help you physically and emotionally. The weight of the words can be very heavy sometimes, so it's better to get it out than to let it weigh you down." 
We concluded our discussion with Brittany by asking her what gave her hope for the sickle cell community. "The SCD has really supported me," said Brittany. "I want to see my friends healthy. Seeing them have hope gives me hope." 
To learn more about Kids Rock Cancer, its work in the St. Louis community and how it's navigating its program amid the COVID-19 pandemic, please visit https://www.kidsrockcancer.org/