Living Life with SCD
Before diving into her advocacy work, Alexis told us a little about what her life is like with sickle cell. She shared that, "Living with sickle cell disease means being honest about my limitations while also being hopeful and compassionate about my life." Like most SCD Warriors, she learned from a young age how to recognize the warning signs her body was giving her, and how to address them quickly. In addition to learning how to care for her physical self, she also shared that, "SCD has taught me from my childhood that there is no sugar coating the truth. My mother had to learn how to tell me hard things really fast." There are many degrees of "hard truths," Alexis says, and she is a staunch believer that bad news does not get better with time. 
As a Warrior, she knows that SCD places restrictions and limitations on her life, but she has settled into learning how to operate within those limitations. "Mismanaging my health for one, two, or three days can have serious consequences. Having sickle cell means that I have to be a great manager," Alexis says, and feels that learning how to manage herself has led her to becoming a successful manager in a professional sense. As a self-employed freelancer, part of what she does is help authors, speakers, and leaders of faith build their brands and fulfill their visions. As a personal coach, she helps women who have been through tough times to lead them to their purpose and find their strength.
Advocacy, Blood Donation, and Breaking the Cycle
Through her dedication to taking care of herself and her clients, Alexis has found time to apply her personal experiences to another area: advocating for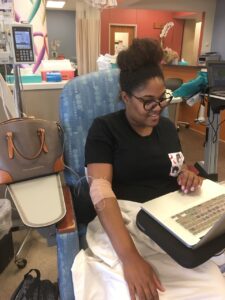 the importance of blood donation. As someone who has relied on over 20 blood transfusions as part of her ongoing treatment, she knows first-hand the impact that blood donations from one person can have on the life of another. However, as a Black woman, her path to getting a transfusion can get long due to the lack of blood donations from Black and African Americans. Though they make up 13% of the U.S. population, blood donations from the Black and African American community only make up about 3% of total donations. 
According to the American Red Cross, there are a few things that determine a blood donation match. The first is the one most people know about: blood type. The four main types are A, B, O, and AB. There are further subtypes when you start accounting for "positive" and "negative" blood types. Each blood type has a specific type of antigens, which are sugars or proteins attached to your blood cells. Some antigens are much more common in the blood types of individuals from certain ethnic backgrounds, such as those of African descent. Because some people receiving blood donations need a very specific match, it is crucial that there is a diverse pool of blood donors in order to meet that need. For Alexis, her best chance is to receive a blood donation from someone who looks like her. She says, "The reality is that when a person of color goes into a blood donation center, they increase the chances of their genetic markers being a match for another person of color."
Alexis recognizes the history of mistreatment of Black and African Americans by the medical system and says, "we are still dealing with the consequences of slavery." At the same time, she says, her life has been saved again and again by blood donors, specifically Black and African American donors. "Many people don't know that they can do this one thing and be the hero in someone else's life." With just a little bit of education and removing barriers to blood donation, access to life-saving treatments like blood transfusions will open up. Alexis encourages individuals everywhere to trust that their gift is giving life to others. "It's important for people of color to know that, 'I can't sit back and wait on someone else to help…I have to help.' Giving blood is the safest and easiest way to do that."
Pulling Back the Curtain
At the end of the interview, we got into some of the ways people who are nervous about donating can help overcome their worries. The list is simple, Alexis says:
Do as much research as you can.

Talk to someone who has donated blood to hear first-hand what it was like.

Take a friend with you

. Not only does this mean you'll be able to save more lives, but you'll also have someone to keep you company and chat with throughout the process.

Host your own blood drive

by partnering with a blood donation organization, like the Red Cross, so you can have a full community experience.
If there is one thing Alexis wants potential blood donors to know, it's that "Everything you are doing is making a difference. Your one blood donation can save up to three lives. Giving blood is how you become a hero in someone else's story, just like mine."

To learn more about Alexis, visit alexislott.com
June 2022
---
Interested in donating blood? Check out these organizations or a local sickle cell disease nonprofit:
Versiti Blood Center (Illinois, Indiana, Michigan, Ohio, Wisconsin)